Blog
Monday, 10 December 2018 00:00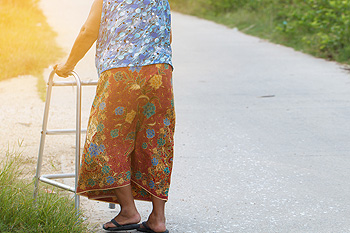 The act of falling can cause serious repercussions, and it is advised to learn about ways that prevent this from occurring. There are several consequences that may happen when a fall is endured, and this may include bone fractures, head or brain injuries that may be of a serious nature, or painful and uncomfortable cuts or bruises. Research has shown that approximately one third of seniors who reside in the United States will fall during the year, and this may cause many people to refrain from the activity that may have caused the fall. There are simple techniques that may be implemented, which may diminish the number of times falling may occur, and these may include removing any clutter that may be present, repairing carpeting that may have loosened, or removing any throw rugs that may be slippery. Additionally, it may be beneficial to install grab bars in the shower area, wear clothing that fits properly and does not drag on the floor, and install proper lighting, which may improve overall vision. If you have fallen, and have injured any part of your foot, it is suggested to seek the counsel of a podiatrist, so a proper examination can be performed.
Preventing falls among the elderly is very important. If you are older and have fallen or fear that you are prone to falling, consult with one of our podiatrists from Dr. Siegerman & Associates. Our doctors will assess your condition and provide you with quality advice and care.
Every 11 seconds, an elderly American is being treated in an emergency room for a fall related injury. Falls are the leading cause of head and hip injuries for those 65 and older. Due to decreases in strength, balance, senses, and lack of awareness, elderly persons are very susceptible to falling. Thankfully, there are a number of things older persons can do to prevent falls.
How to Prevent Falls
Some effective methods that older persons can do to prevent falls include:
Enrolling in strength and balance exercise program to increase balance and strength
Periodically having your sight and hearing checked
Discuss any medications you have with a doctor to see if it increases the risk of falling
Clearing the house of falling hazards and installing devices like grab bars and railings
Utilizing a walker or cane
Wearing shoes that provide good support and cushioning
Talking to family members about falling and increasing awareness
Falling can be a traumatic and embarrassing experience for elderly persons; this can make them less willing to leave the house, and less willing to talk to someone about their fears of falling. Doing such things, however, will increase the likelihood of tripping or losing one's balance. Knowing the causes of falling and how to prevent them is the best way to mitigate the risk of serious injury.
If you have any questions, please feel free to contact one of our offices located in Drexel Hill and West Chester, PA. We offer the newest diagnostic and treatment technologies for all your foot care needs.
Read more about Falls Prevention
Monday, 03 December 2018 00:00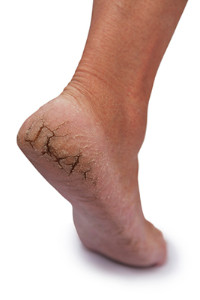 If you have ever experienced a condition that is known as heel fissures, you are most likely familiar with the discomfort it may cause. This unsightly ailment may also be referred to as cracked heels, and may cause difficulty in walking and standing. This condition may develop in anyone and may typically occur if standing is done for most of the day, or if open-back shoes are worn, which may provide minimum support. Additionally, people who are obese may notice symptoms of cracked heels and this may be a result of the additional weight the heels must endure. These signs may include the skin on the heel appearing thickened and dry, and small cracks in the skin may begin to form. Research has shown there may be measures that can be taken to prevent cracked heels from developing, which may include washing and drying the feet thoroughly, followed by utilizing a good moisturizer, and wearing shoes that provide adequate support for the heel. If you have developed this condition, it is suggested to speak with a podiatrist, so the correct treatment can begin.
Cracked heels are unsightly and can cause further damage to your shoes and feet. If you have any concerns, contact one of our podiatrists from Dr. Siegerman & Associates. Our doctors can provide the care you need to keep you pain-free and on your feet.
Cracked Heels
Cracked heels appear unappealing and can make it harder for you walk around in sandals. Aside from looking unpleasant, cracked heels can also tear stockings, socks, and wear out your shoes. There are several methods to help restore a cracked heel and prevent further damage.
How do you get them?
Dry skin is the number one culprit in creating cracked heels. Many athletes, walkers, joggers, and even swimmers suffer from cracked heels. Age and skin oil production play a role to getting cracked heels as well.
Promote Healing
Over the counter medicines can help, especially for those that need instant relief or who suffer from chronic dry feet.
Wear Socks – Wearing socks with medicated creams helps lock in moisture.
Moisturizers – Applying both day and night will help alleviate dryness which causes cracking.
Pumice Stones – These exfoliate and remove dead skin, which allows for smoother moisturizer application and better absorption into the skin.
Change in Diet
Eating healthy with a well-balanced diet will give the skin a fresh and radiant look. Your body responds to the kinds of food you ingest. Omega-3 fatty acids and zinc supplements can also revitalize skin tissue.
Most importantly, seek professional help if unsure how to proceed in treating cracked heels. A podiatrist will help you with any questions or information needed.
If you have any questions, please feel free to contact one of our offices located in Drexel Hill and West Chester, PA. We offer the newest diagnostic and treatment technologies for all your foot care needs.
Read more about Solutions for Cracked Heels