August 2022
Tuesday, 09 August 2022 00:00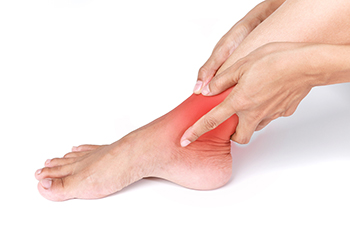 The ankle joints are used every day to walk, run, jump, or play sports. After a while, the connective tissues that form the joint like cartilage, ligaments, and tendons can simply wear out and arthritis takes over. You may notice pain, redness, heat, swelling, and less range of motion. At first, some lifestyle changes can help reduce the effects of ankle arthritis. Among them are losing weight, ceasing repetitive and strenuous activities, and taking certain medications. If none of this helps, it may be time to see a podiatrist who can offer more complex solutions. Among them is arthroscopic debridement to clean out any loose cartilage that may be causing the inflammation. Another option is arthrodesis, which is a fusion of bones in the ankle using plates, rods, pins, or screws. This may affect the range of motion and gait but offer pain relief. A final option is ankle joint replacement which comes with a long list of risks and benefits. Ask your podiatrist for more detailed information on dealing with ankle arthritis.
Arthritis can be a difficult condition to live with. If you are seeking treatment, contact the podiatrists from Dr. Siegerman & Associates. Our doctors can provide the care you need to keep you pain-free and on your feet.
Arthritic Foot Care  
Arthritis is a term that is commonly used to describe joint pain.  The condition itself can occur to anyone of any age, race, or gender, and there are over 100 types of it.  Nevertheless, arthritis is more commonly found in women compared to men, and it is also more prevalent in those who are overweight. The causes of arthritis vary depending on which type of arthritis you have. Osteoarthritis for example, is often caused by injury, while rheumatoid arthritis is caused by a misdirected immune system.
Symptoms
Swelling
Pain
Stiffness
Decreased Range of Motion
Arthritic symptoms range in severity, and they may come and go. Some symptoms stay the same for several years but could potentially get worse with time. Severe cases of arthritis can prevent its sufferers from performing daily activities and make walking difficult.
Risk Factors
Occupation – Occupations requiring repetitive knee movements have been linked to osteoarthritis
Obesity – Excess weight can contribute to osteoarthritis development
Infection – Microbial agents can infect the joints and trigger arthritis
Joint Injuries – Damage to joints may lead to osteoarthritis
Age – Risk increases with age
Gender –Most types are more common in women
Genetics – Arthritis can be hereditary
If you suspect your arthritis is affecting your feet, it is crucial that you see a podiatrist immediately. Your doctor will be able to address your specific case and help you decide which treatment method is best for you.
If you have any questions, please feel free to contact one of our offices located in Drexel Hill and West Chester, PA . We offer the newest diagnostic and treatment technologies for all your foot care needs.
Read more about How to Care for Your Arthritic Foot
Tuesday, 02 August 2022 00:00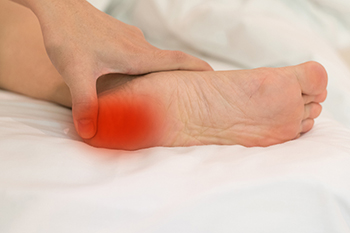 Sever's disease is an affliction of the foot that can threaten your child's health, so it is important to be fully aware of what this condition is. Primarily affecting children, Sever's disease occurs when excessive strain is placed on the growth plate of a child's heel. The condition can produce pain in the heel. A child is most susceptible to developing Sever's disease during the onset of a growth spurt. Sever's disease in children has an interesting link to sports and physical activities that parents should be aware of. Playing high-impact sports puts children at an increased risk of developing Sever's disease because it can place extra strain on the growth plate of the heel. Specifically, soccer, basketball, track, and gymnastics are all common sports that can put children at an increased risk. Additionally, physical activities and other sports that include children engaging in a lot of running or jumping can make the development of Sever's disease more likely. It is therefore no surprise that cases of Sever's disease are usually seen prominently at the beginning of sports seasons. If your child is engaged in a sport or some kind of comparable physical activity, then consider contacting a podiatrist who can help you learn how to prevent or treat Sever's disease. 
Sever's disease often occurs in children and teens. If your child is experiencing foot or ankle pain, see the podiatrists from Dr. Siegerman & Associates. Our doctors can treat your child's foot and ankle needs.
Sever's Disease
Sever's disease is also known as calcaneal apophysitis, which is a medical condition that causes heel pain I none or both feet. The disease is known to affect children between the ages of 8 and 14.
Sever's disease occurs when part of the child's heel known as the growth plate (calcaneal epiphysis) is attached to the Achilles tendon. This area can suffer injury when the muscles and tendons of the growing foot do not keep pace with bone growth. Therefore, the constant pain which one experiences at the back of the heel will make the child unable to put any weight on the heel. The child is then forced to walk on their toes.
Symptoms
Acute pain – Pain associated with Sever's disease is usually felt in the heel when the child engages in physical activity such as walking, jumping and or running.
Highly active – Children who are very active are among the most susceptible in experiencing Sever's disease, because of the stress and tension placed on their feet.
If you have any questions, please feel free to contact one of our offices located in Drexel Hill and West Chester, PA . We offer the newest diagnostic and treatment technologies for all your foot and ankle injuries.
Read more about Sever's Disease