How to Perform a Thorough Vascular Exam
Monday, 24 June 2019 00:00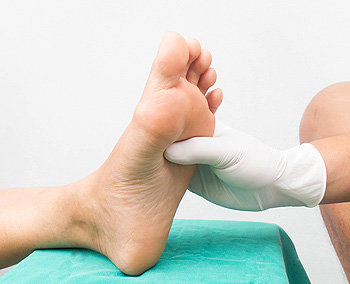 Vascular diseases are complications that take place in lower extremity wounds such as in the foot and ankle. They are also leading factors in the occasional amputation of these lower extremities. Vascular screenings have shown to be an efficient option in identifying any potential lower limb vascular diseases. When giving a vascular exam, there are a couple of things to look for. First, a visual inspection is done of the wound to note the presence or absence of any tissue loss, as well as the color of the foot and any sign of soft tissue atrophy. Comparing any present color changes in the extremities is a key indicator to the severity of the lesion. It is also vital to check skin temperature for the blood flow rate, as this is another reliable marker to the severity of the wound. This is assessed by lightly palpating the skin with the back of the hand and comparing sites from one extremity to another. There are a couple of different vascular exams that a podiatrist can perform to determine the severity of these ailments. These include blood pressure testing, recording the volume of the pulse and non-invasive testing to determine pressure in the limbs and toes. If you feel that you exhibit any signs of vascular disease in your feet or ankles, it is vital that you see a podiatrist as soon as possible.
Vascular testing plays an important part in diagnosing disease like peripheral artery disease. If you have symptoms of peripheral artery disease, or diabetes, consult with Julie Siegerman, DPM from Dr. Siegerman & Associates. Our doctor will assess your condition and provide you with quality foot and ankle treatment.
What Is Vascular Testing?
Vascular testing checks for how well blood circulation is in the veins and arteries. This is most often done to determine and treat a patient for peripheral artery disease (PAD), stroke, and aneurysms. Podiatrists utilize vascular testing when a patient has symptoms of PAD or if they believe they might. If a patient has diabetes, a podiatrist may determine a vascular test to be prudent to check for poor blood circulation.
How Is it Conducted?
Most forms of vascular testing are non-invasive. Podiatrists will first conduct a visual inspection for any wounds, discoloration, and any abnormal signs prior to a vascular test.
The most common tests include:
Ankle-Brachial Index (ABI) examination
Doppler examination
Pedal pulses
These tests are safe, painless, and easy to do. Once finished, the podiatrist can then provide a diagnosis and the best course for treatment.
If you have any questions, please feel free to contact one of our offices located in Drexel Hill and West Chester, PA. We offer the newest diagnostic and treatment technologies for all your foot care needs.
Read more about Vascular Testing in Podiatry